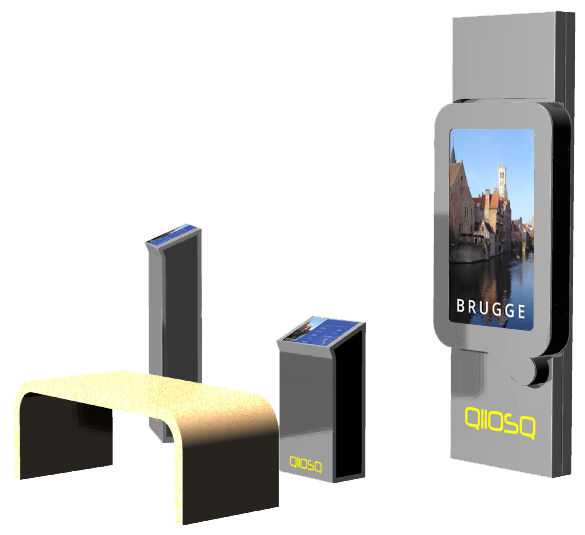 QIIOSQ - The Intelligent Interacting Touchpoint
440 million tourists and customers annually visit German destinations and some billion travelers per year tour through Europe's cities. Lack of guidance, out of date information and bad communication coming from outdated infrastructure and old-fashioned technology upset both visitors and residents.
We have been watching this situation for a while and have decided that it's time for a change.
Using our in-depth know-how of media production, digital infrastructure and ergonomic software design, we have created QIIOSQ, the world's first interacting touch-point capable to identify demographic groups and to customize all content – regardless if it's audio, video, text or pictures – automatically to the requirements of the visitors.
Our QIIOSQ systems are unique and far beyond traditional uni-dimensional information systems which present its content just sequentially without considering audiences interest.
The perfect guide to urban jungles
QIIOSQ touch points permanently analyze its neighborhood and inform visitors in its vicinity specifically about those events and attractions which are of interest to them. Young people are informed about action sports, other groups are hinted to more relaxing activities and families learn about playgrounds for kids.
Also, our QIIOSQ systems help to plan tours in a most efficient way avoiding traffic jams and waiting queues. They offer tours with a small climate foot-print and can even provide information about barrier-free excursion. Connected to the destinations data-network visitors learn in real-time about the best time to visit their preferred points of interest and can receive updates right on their mobile devices.
Destination managers get real-time information
QIIOSQ touch-points inform destination managers about visitor's interest and help to manage tourist flow in the best possible way. Now, cities and other entertainment locations can avoid overcrowded attractions and queues at entry areas and are able to distribute visitors within their towns to reduce traffic jams on walk ways and roads.
Brand image and low cost advertisement
Furthermore, well designed content presentations give cities a distinctive brand image and help to stay in touch with their guest long after the visit.
Local businesses eventually find an advertisement platform at reasonable cost without any distribution losses as QIIOSQs are positioned right at the point of sale.